How to open a syslog storage backup
What is a backup of the syslog storage?
A backup is a full copy of the syslog storage copy. It has the same structure as the storage and can be opened with Syslog Watcher Manager. Each backup is a folder with *.bank (sometimes *
.bank-journal) files:
common.bank,
errors.bank, etc.

If the files have .bank.bak extension, you need to rename them removing ".bak" part. For example, rename errors.bank.bak -> errors.bank

Upgrade to Syslog Watcher 5.1 or later: it allows you to turn the adding ".bak" extension off
, so you do not need to rename files.
How to open a backup folder in Syslog Watcher Manager

1. (Optional)

If you have the Syslog Watcher server installed on the same machine, Syslog Watcher Manager starts in
"Manage Local Syslog Watcher"
mode.
Click the
Open/Connect
button to run another instance of Syslog Watcher Manage in the default mode.

2. Click the Open button and select the backup folder: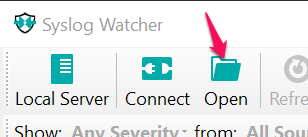 3. The backup folder is opened. You can view, search, and export syslog messages.
Related Articles

Upgrade to Syslog Watcher 5.2

This article describes how to upgrade Syslog Watcher 5.0.x/5.1.0 to version 5.2.x only. Back up Syslog Watcher configuration Stop Syslog Watcher Server Close Syslog Watcher Manager (GUI application) Install Syslog Watcher 5.2 using the MSI file ...

Syslog Watcher 4.8

Summary Syslog Watcher 4.8 is a maintenance update of the version 4.7.x. It contains several important bugfixes and internal improvements, but no new features. However, the version number was changed to 4.8 because it has updated copyright ...

Upgrade to Syslog Watcher 5.0

The upgrade is possible from Syslog Watcher 4.2 or later. 1. Install Syslog Watcher 5.0 Syslog Watcher 5.0 uses own program files location, unique service name, and work folders so that it can be installed along with previous Syslog Watcher 4.x. 2. ...

Syslog Watcher 5.0

What's New in Syslog Watcher 5.0 Syslog Forwarding We added the syslog forwarding feature in Syslog Watcher 5.0. Syslog Watcher can work as a syslog relay and forward incoming syslog messages to other syslog servers. The syslog forwarding supports ...

Syslog Watcher 5.2

What's New in Syslog Watcher 5.2 Forward Syslogs over TCP Forwarding to another syslog server via "Syslog over TCP" protocol has been added to complement "Syslog over UDP" forwarding. Better High-DPI Support We have improved the Syslog Watcher ...